At the Roots of the Salpa Line
The Bunker Museum in Virolahti is a military history museum established in 1980.
Established by the Municipality of Virolahti and local veterans' associations, the museum is being developed in co-operation with the Salpa Line Museum in Miehikkälä and other parties involved in the Salpa Centre's operation.
The museum's permanent exhibition includes an indoor exhibition, a 15-minute multimedia short film on the history of the Salpa Line and fortifications in an outdoor museum area.
Download the museum's brochure
How to Get There
The Bunker Museum is easiest to reach by car. It is situated right by National Road 7/E18 from Hamina to Vaalimaa, in the village of Yläpihlaja in Virolahti at Vaalimaantie 1318, FI-49960 Ala-Pihlaja.
There are signs from the road to the museum.
Visiting address: Vaalimaantie 1318, FI-49960 Ala-Pihlaja
Distances: 21 km east of Hamina, 5 km west of Virojoki.
Bus Traffic
Taxi
Kymenlaakson Taksi, tel. +358 5 10 041 
Accommodation
You can spend the night in a dome bunker at Bunker Museum or search TripAdvisor.
Opening Hours 2022
May: Fri 10 am–6 pm, Sat 10 am–4 pm
June–August: Mon–Sun 10 am–6 pm
September: Fri 10 am–6 pm, Sat 10 am–4 pm
Open to groups year-round upon request.
Tickets
€7 ​Adults
€4 Children (7–16 years), conscripts, students, pensioners, unemployed
€15 ​Family ticket (2 adults and children under 17 years)
The ticket price includes a guided tour both indoors and in the outdoor exhibition area.
Contact us
Bunker Museum and Café
tel. +358 40 710 7339 (during the museum's opening hours)
Street address: Vaalimaantie 1318, FI-49960 Ala-Pihlaja
Museum Office
Street address: Opintie 4, FI-49900 Virolahti, Finland
Postal address: P.O. Box 14, FI-49901 Virolahti, Finland
Enquiries and bookings, facility rental, other tourism issues:
Municipality of Virolahti/Tourism
bunkkerimuseo(a)virolahti.fi
tel. +358 40 710 7340
Download the Salpa Center Brochure (PDF)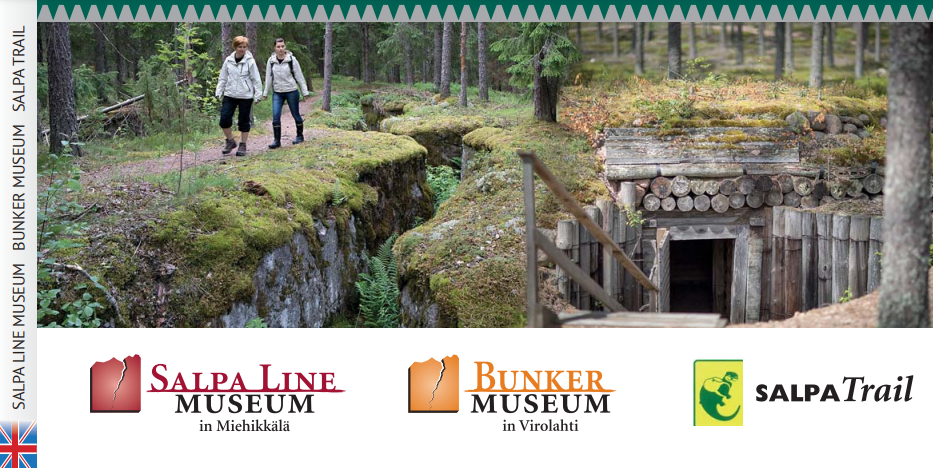 Salpa Line, Bunker Museum and Salpa Trail
This brochure presents the different attractions along the Salpa Line.